Is There Any Stronger One?
Those who know, industrial computer users and manufacturers avoid updating their processors, which have proven their robustness, reliability and problem-freeness, even if the technology develops and new generations come. Therefore, while current processors can be used immediately in desktop and laptop computers, it can take months, sometimes even years, for a new processor to be put into mass production in industrial computers. The reason is that new processors are subjected to various tests to ensure 24/7/365 operation in industrial applications. When this is the case, users ask "why not use a new serial processor?" They ask too many questions.
Being aware of this, Asus company AAEON and ICC brand IPC4 accelerated this process and started to offer brand new processors to Turkish users.
11th Gen Intel® Core™ processor
AAEON brings the performance of 11th Gen Intel® Core™ U processors to support industrial embedded computing platforms with robust, compact platforms ready to deploy in harsh environments.
BOXER-6643-TGUoffers a flexible, compact platform that supports a wide range of operating temperatures from -20°C to 60°C, as well as features including 5G cellular modules. The system also offers storage flexibility with mSATA, SATA III and NVMe support, as well as easy maintenance and upgradeability thanks to easy access panels.
The BOXER-6450-TGUbrings the same power and flexibility to an ultra-thin platform designed to fit anywhere.
10th Gen Intel® Core™ processor
The BOXER-6642-CML is AAEON's first fanless industrial PC to offer 10th Gen Intel Core i3/i5/i7/i9 and Intel® Celeron® processors (up to 35W TDP). Using a socket-type desktop chipset, the system can be easily scaled or upgraded to meet the performance needs of any application. In addition, its slim design at only 54mm thick allows it to fit into almost any tight space and be placed where it needs to be.
The BOXER-6642-CML features an M.2 2280 (M-Key) powered by PCIe 3.0 [x4] supporting fast NVMe SSDs and an M.2 2230 (E-Key) slot to support Wi-Fi or Bluetooth connectivity .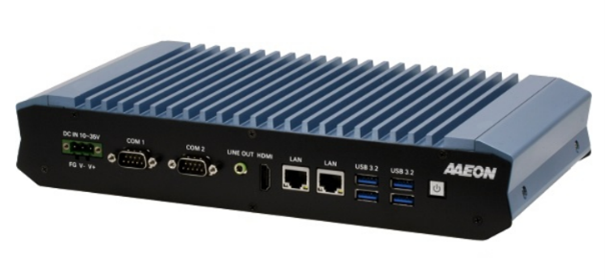 The OMNI-2155-CML is the first product in the OMNI industrial touch panel PC solutions family to offer a socket-type processor that provides easier maintenance and scalability to meet the performance needs of individual applications. The system uses 10th generation Intel Core i3/i5/i7/i9 and Intel® Celeron® processors (up to 35W TDP) with up to 64GB DDR4 memory to deliver higher performance and faster processing speeds than previous generations. These latest generation processors also provide support for a number of vital technologies that are fully unlocked with the OMNI-2155-CML.
8th Generation Intel® Core™ processors
Affordable and New
IPC4
Box and Panel PCs
IPC4 i5 8th Generation Panel PC
IPC4 Panel PC series, which offers 10.4" - 43" sizes, offers I5- It supports digitalization and industry 4.0 projects with the 8250 processor.
11.6" - 15.6" - 17.3", 21.5" and 43" 1920x1080 Full HD resolution allows you to zoom with 10-finger PCAP touchscreen, and with built-in WiFi, it saves cable clutter and costs. .
IPC4-BXPC-i510-8250, with 8GB DDR4 RAM offered as standard, offers the power and performance required in industrial applications at an economical price. Offering a 3-year warranty, the IPC4-BXPC-i510-8250 is equipped with Gigabit Ethernet x 2, USB3.0 x 4, RS323 x 4 port wireless connectivity. It is the ideal multi-service communication gateway for production management systems (MES). The 8GB RAM included as standard can also be upgraded to 16GB.