It's Windows 11 Time
Are You Considering Upgrading to Windows 11 on Your Industrial Computers?
As it is known, as of October 2021, Microsoft has launched its new operating system, Windows 11. Unfortunately, Windows 11, which was also installed by getting an update via Windows 10, does not support every computer anymore.
In particular, will industrial computers that follow processor technologies later than individual products due to lengthy testing procedures adapt to Windows 11 immediately?

Windows 11 System Requirements
Processor
1 Gigahertz (GHz) or faster with 2 or more cores on a compatible 64-bit processor or System-on-Chip (SoC) .

RAM
4 Gigabytes (GB).
Storage/SSD
64GB or larger storage device
System firmware
UEFI with Secure Boot.
TPM
Trusted Platform Module (TPM) version 2.0.
graphics card
Compatible with DirectX 12 or higher with WDDM 2.0 driver.
Screen
High-definition (720p) display larger than 9 inches diagonally,
8 bits per color channel.
What is TPM 2.0?
The TPM 2.0 required for Windows 11 comes from an English abbreviation. TPM stands for "Trusted Platform Module" and its Turkish word is "Trusted Platform Module". This module, which works at the hardware level, is a technology that provides different functions by providing the operating system security at the hardware level. It creates encryption keys, stores these encryption keys, and makes the computer more resistant to outside interference (such as malware, malicious users, etc.). It provides additional protection for the operating system to be more secure against many malicious software and other different attacks.
Microsoft assumes that all of these operating systems have "a hardware root-of-trust" in their posts about Windows 11 demos. Required for Windows 11, TPM 2.0 is a module located at the center of the computer that makes security features such as Windows Hello, disk encryption and secure biometric login available, and is highly resistant to malware and other types of attacks.
TPM can also be used to remotely authenticate hardware and software. Having a unique approval key written to the hardware, TPM can remotely control and verify that a device has the desired settings for corporate companies and that the settings related to hardware and software have not been tampered with. It is a useful feature especially for companies that want to make sure that computers are not misused during the period when almost all companies switch to remote work.
It is also a random number generator as a hardware that the system using TPM can rely on. Smartphones that we use in most of our daily lives have chips for additional security. This feature can also be integrated into computers.
Why TPM 2.0 is Required for Windows 11?
It is possible to explain the answer to this question with a small example. BitLocker encryption, currently used in Windows operating systems, can store encryption keys in the TPM to protect files. Keys stored in the TPM can be used to unlock the drive whenever the computer boots for any reason . In this way, if a malicious attacker removes your system drive from your computer and places it on another computer, since there are no keys stored in the TPM, it cannot be decrypted and the malicious attacker cannot access your files. TPM 2.0 required for Windows 11 is protected against such attacks. In this way, the drive removed from your computer cannot be inserted into another computer or the decryption key cannot be easily removed from this computer.
Even on the Windows 10 operating system, which many users currently prefer to use, BitLocker does not work under normal conditions without a TPM. All Windows 11 computers can natively support Device Encryption if TPM is found on all Windows 11 computers. This is much better than what comes with disk encryption on computers with some Windows 10 operating systems, while others do not include encryption.
A TPM will provide every Windows 11 system with a hardware security foundation for Microsoft to build on. It can be assumed that Windows 11 operating systems have always had this underlying hardware security. Thanks to TPM 2.0 required for Windows 11, Microsoft will not have to create software-based attacks against the Windows 11 operating system or disable important features such as disk encryption on many computers.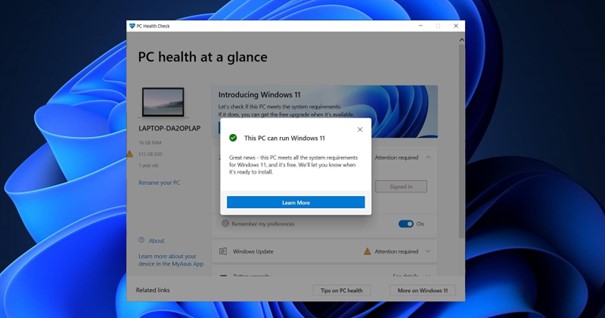 IPC4 Supports Windows 11!
As mentioned above, IPC4s, which provide the most important requirement, TPM 2.0 in hardware, provide the freedom to use Windows 11 on all models with new generation Intel® Celeron® J4125, 8th and 10th Generation Intel® Core™ i5-i7 processors.
Some of the models running Windows 11.
The above models are 17.3" 1920x1080 Full HD.
Also IPC4 Panel PCs
With size options from 7" to 23.8"
10 finger PCAP offers capacitive and resistive touch screen options.